"Silent Spring" 15.03-15.07
We are a grass roots movement that started with the idea of organising a demonstration in support of Estonian forests on 16 August 2020. Due to the spread of the COVID-19 coronavirus we were forced to postpone this demonstration called. The new date is the 16th of August.  By now, dozens of people have joined the organising team. Their contribution is based on their enthusiastic support for the cause, and none of them are paid for the work. The rural/urban as well as male/female ratios in the team are well balanced. Our team also includes people from different age groups and from varied walks of life. The main common denominator that joins us is concern over Estonian forests and readiness to actively contribute towards changing the current situation.
Coordinator: Liina Steinberg 
steinbergliina@gmail.com
 Coordinator in Russian speaking community and media: Jekaterina Kordas
katja.kordas@gmail.com​
Please support the work of our NGO  Päästame Eesti Metsad MTÜ (reg. code 80577966), 
Account number EE197700771004651360.
We are heartily grateful for your donation!
Listen to our nesting cast!
Our guests were: Frances Howe and Sally Clark, UK Bioenergy Campaigners for Biofuelwatch, and Elly Pepper, a biodiversity expert and a campaigner with the Natural Resources Defence Council in the USA and campaigner with the Cut Carbon Not Forests coalition.
The discussion was about birds, biodiversity loss, the links between Estonian forests and Drax Power Station in the UK, biomass and everything in between.
Moderator: Farištamo Eller
The "Silent Spring" art program is waiting for the participants!
We invite you to participate in the online exhibition with your creative work, the aim of which is to make a creative homage to all breeders.
Both student work and the work of dedicated artists are welcome, which we can share with words of thanks on the website and Facebook.
Take pictures, draw, clay or craft!
Thank you to all photographers who help us!
Support our nesting peace campaign by buying a nest box!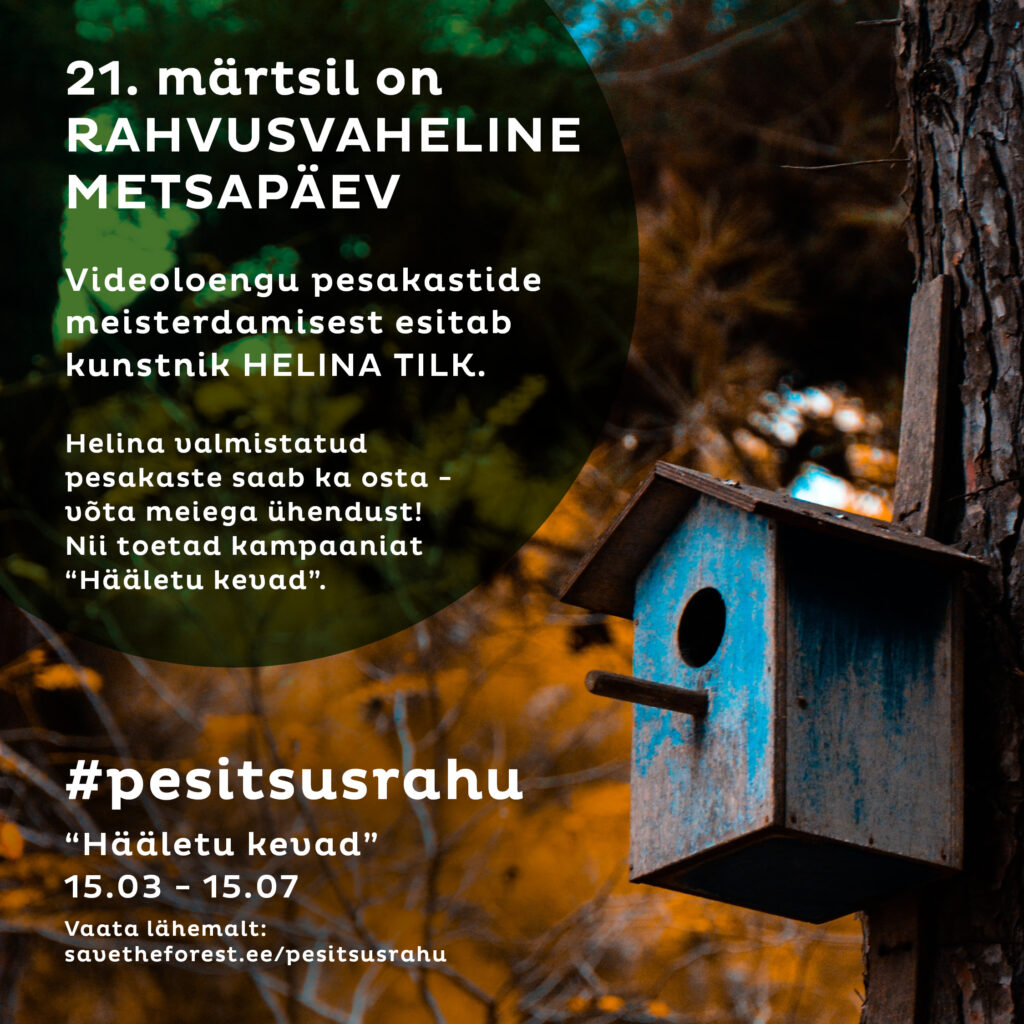 If you would like to order a nest box, please contact us:  helina@tilk.ee and transfer 25€ to our account:   EE197700771004651360 (Päästame Eesti Metsad MTÜ). Transportation in free in Tallinn, other parts of Estonia 5€.